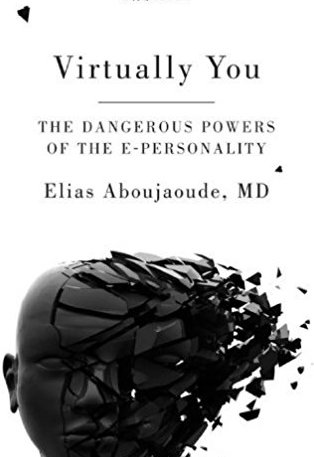 Virtually You: The Dangerous Powers of the E-Personality. New York: W.W. Norton. A New York Times Editor's Choice.
While the Internet can enhance well-being, Elias Aboujaoude has spent years treating patients whose lives have been profoundly disturbed by it. Part of the danger lies in how the Internet allows us to act with exaggerated confidence, sexiness, and charisma. Aboujaoude dubs this new self our "e-personality" and argues that its traits are too potent to be confined online. Offline, too, we're becoming impatient, unfocused, and urge-driven. Virtually You draws from Aboujaoude's personal and professional experience to highlight this new phenomenon. The first scrutiny of the virtual world's transformative power on our psychology, Virtually You demonstrates how real life is being reconfigured in the image of a chat room, and how our identity increasingly resembles that of our avatar.
Reviews:
"Instantly engaging and eminently accessible . . . . an enlightening and cautionary exploration of an increasingly intrusive aspect of modern society."–Booklist
New York Times (Editor's Choice)
Compulsive Acts: A Psychiatrist's Tales of Ritual and Obsession. Berkeley: University of California Press.
In this compelling book, we meet a man who can't let anyone get within a certain distance of his nose, two kleptomaniacs from very different walks of life, an Internet addict who chooses virtual life over real life, a professor with a dangerous gambling habit, and others with equally debilitating compulsive conditions. Writing with compassion, humor, and a deft literary touch, Elias Aboujaoude, an expert on obsessive compulsive disorder and behavioral addictions, tells stories inspired by memorable patients he has treated, taking us from initial contact through the stages of the doctor-patient relationship. Into these interconnected vignettes Aboujaoude weaves his own personal experiences while presenting up-to-date, accessible medical information. Rich in both meaning and symbolism, Compulsive Acts is a journey of personal growth and hope that illuminates a fascinating yet troubling dimension of human experience as it explores a group of potentially disabling conditions that are too often suffered in silence and isolation.
Reviews:
"A wonderful read. These stories, written in a breezy, accessible style, illuminate several of the more mysterious and perplexing psychiatric ailments. Highly informative for both professional and lay readers."–Irvin Yalom MD, author of Love's Executioner
"This is a compulsively (I can't help myself) readable book about obsessive compulsive disorder. The author, a psychiatrist at Stanford Medical School, combines stories from his own patients with information about recent research on OCD. It's short - only about 160 small pages - but I couldn't put it down. I hadn't known anything, at least in any depth, about OCD before reading this, but it both gave me a good basic education and inspired me to look for more. And it did so in fascinating fashion - Aboujaoude writes beautifully. I recommend it to people who, like me, don't know much about OCD but are interested in learning more."–Hank Greely, Professor of Law, Stanford Law School, Stanford, California
"Highly readable. . . . Consistently provides the reader with a refreshingly jargon-free and intimate look at what OCD looks and feels like."–Publishers Weekly
"Dr. Aboujaoude is to be congratulated for writing such an important book. He writes lyrically about bizarre, yet entirely credible, cases of common, though poorly understood, compulsions. This book will go a long way in educating the general public, as well as professionals, with its state-of-the-art information about assessment, risk factors, and treatment of these conditions."?Donald W. Black, MD, Professor of Psychiatry, University of Iowa Roy J. and Lucille A. Carver College of Medicine, Iowa City, Iowa
Mental Health in the Digital Age: Grave Dangers, Great Promise. London: Oxford University Press.
The Internet and related technologies have reconfigured every aspect of life, including mental health. Although the negative and positive effects of digital technology on mental health have been debated, all too often this has been done with much passion and few or no supporting data. In Mental Health in the Digital Age, Elias Aboujaoude and Vladan Starcevic have edited a book that brings together distinguished experts from around the world to review the evidence relating to this area.
The first part of the book addresses threats resulting from the growing reliance on, and misuse of, digital technology; it also looks at how some problematic behaviors and forms of psychopathology have been shaped by this technology. This section reviews problematic Internet and video game use, effects of violent video games on the levels of aggression and of online searches for health-related information on the levels of health anxiety, use of digital technology to harm other people, and promotion of suicide on the Internet.
The second part of Mental Health in the Digital Age examines the ways in which digital technology has boosted efforts to help people with mental health problems. These include the use of computers, the Internet, and mobile phones to educate and provide information necessary for psychiatric treatment and to produce programs for psychological therapy, as well as use of electronic mental health records to improve care.
Mental Health in the Digital Age is a unique and timely book because it examines comprehensively an intersection between digital technology and mental health and provides a state-of-the-art, evidence-based, and well-balanced look at the field. The book is a valuable resource and guide to an area often shrouded in controversy, as it is a work of critical thinking that separates the hype from the facts and offers data-driven conclusions. It is of interest particularly to mental health professionals, but also to general audience.
Reviews:
"The authors review the existing literature comprehensively- referring also to current evidence - and look at the potential of technology across several areas of mental healthcare, including the provision of psychotherapy and the integration of patients? health records. They also discuss how recent advances - such as virtual reality - could in principle be a powerful tool in exposure therapy. This is a good guide for novices in e-health but equally a useful tool for the more experienced in this area."–Melvyn W. B. Zhang, Institute of Mental Health, Biomedical Institute for Global Health Research & Technology, National University of Singapore, Singapore.
"This book provides a thorough and profoundly useful account of knowledge on the emerging field of mental health and modern technology. Scholars, clinicians, health care workers, students, and health policy makers will probably find this volume on the modern digital technology integrated into mental health care refreshing, which sometimes reminds us of the most astonishing inventions found mostly in science fiction novels. This book may serve as well as a good reference source for future research."–Agnes Zsila, Doctoral School of Psychology, Eotvos Lorand University, Budapest, Hungary
"The clear and concise chapters are all written by a genuinely international team of experts."–Martin Guha, King's College London, Institute of Psychiatry, Psychology & Neuroscience, London, UK
Impulse Control Disorders. London: Cambridge University Press.
In the last decade, much needed attention and research has been focused on the group of psychiatric conditions termed "impulse control disorders" or ICDs. Pathological gambling, compulsive shopping, kleptomania, hypersexuality, Internet "addiction," among other disorders, are characterized by a recurrent urge to perform a repetitive behavior that is gratifying in the moment but causes significant long-term distress and disability. Despite the high rate of co-morbidity with obsessive compulsive disorder, ICDs are now clearly distinguished from these disorders with a unique clinical approach for diagnosis and treatment. A wide array of psychopharmacologic and psychotherapeutic options is now available for treating these disorders. Drs. Elias Aboujaoude and Lorrin M. Koran have compiled the world's foremost experts in ICD research and treatment to create a comprehensive book on the frequency, evolution, treatment, and related public policy, public health, forensic, and medical issues of these disorders. This is the first book to bring together medical and social knowledge bases related to impulse control disorders.
Reviews:
"Impulse Control Disorders is a significant contribution to the clinical literature and would be a useful addition to the bookshelf of clinicians across a range of specialties."–American Journal of Psychiatry.
"An important contribution to the clinician's library. It is interesting and well researched. This work will be of interest to lay people and sociologists as well as clinicians."–Annals of Clinical Psychiatry.
"What makes this volume so interesting is the attention placed not just on the disorders themselves, but also on the social, cultural, and legal ramifications specific to each ... coherent and thorough ... This book deserves a place on the bookshelves of psychiatric educators and clinicians working with individuals who have impulse-control disorders."–Journal of Clinical Psychiatry.
"Impulse Control Disorders is not only a valuable source of information but also a well-written, interesting guide for researchers, clinicians or anyone who is interested in the personal and societal impact of these disorders beyond the mere symptoms."–Journal of Behavioral Addictions.